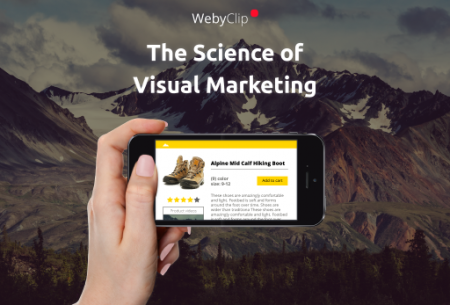 WebyClip, a leading provider of enterprise-grade, scalable video curation solution for online retail, today has made a few forward-looking announcements: expansion of its solutions' portfolio and re-branding, including the official launch of its corporate website.
Since 2013, WebyClip has been helping e-commerce marketers to automatically source the most relevant product videos from across the Internet, bolstering conversion rates and enhancing customer satisfaction. In a move to elevate the core attributes of the WebyClip brand and grow its leadership on the marketplace, the company has expanded its products offering, harnessing the latest breakthroughs in deep learning, in order to help make Visual Marketing seamless.
The new revamped Webyclip.com highlights the broadened array of solutions for visual marketing driven by Artificial Intelligence. Those include Visual Search, Dynamic Video Ads, Shoppable Videos and InMail HD Videos - along with upgrades of Webyclip's Video Curator product.
Snap&Shop Visual Search engine turns searching for products into a one-click process. The solution automatically and accurately interprets products captured by a mobile camera or uploaded from the Internet, determines their characteristics and finds a matching product in a retailer's catalog.
Spot&Shop solution, powered by Visual Intelligence Platform, makes the exploratory videos shoppable, empowering marketers to deliver real-time immersive shopping experiences inside the videos and allowing users to interact with featured products through moving images.
Dynamic video ads on Facebook. WebyClip's Platform is integrated with Facebook DPA engine to enable the automatic creation of thousands of video ads based on a retailer's product feed – a massive potential for efficient retargeting and promotion of multiple products.
InMail HD Videos solution seamlessly adds an engaging short video clip into any email, regardless of the format, with an interactive link to bring prospects to a webpage where they can find any kind of useful information.
The solution is particularly effective for the optimization of product returns, by compensating on the information gap in understanding the value or the ways of use of a product.
"Our experience working with the largest e-commerce retailers and learning about their pain drove us to expand our visual marketing product offering. We are excited about the opportunities the newly released solutions open for us - within our existing customer base and with new customers, alike.", said Ariel Shemesh, WebyClip Co-Founder and CEO.
Webyclip follows the technological evolution by introducing the advanced deep learning capabilities such as Convolutional neural networks (CNN) to its Visual Intelligence Platform –to provide a complete and more effective visual marketing offering for marketers. The expanded array of Webyclip's solutions is fully integrated with its Platform, representing a powerful suite of solutions designed to help brands and retailers to deliver high-performance, media-driven modern shopping experience, boost up- and cross-selling of goods and solidify user engagement.